To understand more about what you will find at the Henry Moore Foundation and Gardens, we must first learn a bit about the man himself. Henry was one of 8 children born to Raymond and Mary Moore in the tiny town of Castleford, Yorkshire. By age eleven he received a scholarship to enter Castleford Seco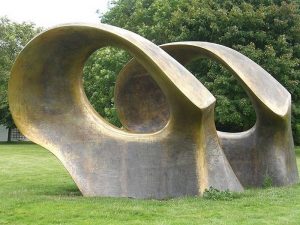 ndary School. He finally graduated and became a teacher at the school he attended when he was younger. However, his true passion was the arts, especially the kind he found in London.
In 1928, he received his first commission to create a sculpture for the Headquarters of London Transports which was home at St. James's Underground building. Also in 1928 at the Warren Gallery, he had his first one-man exhibition that showcased 51 drawings and 42 sculptures.
During the 1930's he had three one-man exhibitions at the Leicester Galleries. His home with his wife was damaged by a bombing close by in the 1940's and they moved to Perry Green.
Today he has exhibitions around the globe as well as at the foundation and garden. Starting on April 9, 2016, until October 9th, 2016, you will be able to view his plasters exhibition at the Skulpturenpark Waldfrieden, Tony Cragg Foundation, Wuppertal, Germany. Starting on July 1st, 2016 until October 30th you can see his Midsummer Moore at the Henry Moore Studios & Gardens Perry Green. Another exhibition will be the Arte en la Calle exhibition beginning on April 16th, 2016 and lasting until April 2nd, 2017 at the Salamanca, San Sebastian, Cadiz, Logrono, Valladolid.
There is no reason to visit Hertfordshire if you do not stop by to see the wonderful exhibitions and magnificent works of art by Henry Moore. Anyone can see that his love of art and his creations were so much more important to the world than being a teacher.